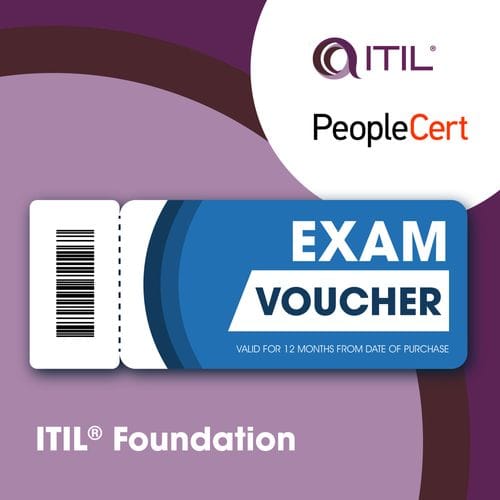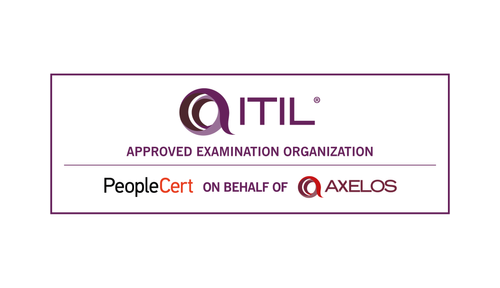 ITIL® 4 Foundation Online Exam
ITIL® 4 Foundation Certification Online Exam Voucher.
Purchasing this voucher allows you to schedule to take your exam online at anytime over the next 12 months.
Take your exam online. Rescheduling an exam up to 48 hours before its start time is free.

Purchasing an ITIL® 4 Foundation Exam voucher allows you to;
Take your Exam from almost anywhere at anytime.
Whether you feel more comfortable taking your exam from your home or it would be a godsend to fit it into your busy day and take it at the office, the choice of an online proctored exam can be the ideal one.

Easily fit taking the exam into your schedule.
Being able to take your exam in as little as 4 hours after you book it, as well as being able to easily reschedule it, allows you to focus your energy on what matters most: preparing for your exam.

Take your exam securely.
PeopleCert's expertly trained Online Proctors use proprietary, cutting edge software to guide you through the exam process and make sure that your experience is comfortable, secure and stress-free.
Taking your online exams via PeopleCert's Online proctoring system is simple and straightforward. You simply choose a room that suits you, plug in to the internet and you're good to go. Your Online Proctor will identify you via sophisticated technology ensure that your testing environment is comfortable, while also adhering to guidelines about what is permitted and what isn't. What's more, your Online Proctor will be observing you in a non-intrusive way throughout the entire exam and is always available for you should you need any help or in case something goes wrong. We've got your back for every possible scenario. So just relax and give it your best shot.
On purchasing your exam voucher you will be sent instructions on how to book your exam within 24 hours. Your exam voucher is valid for 12 months and your exam can be booked to take at anytime during this period.
Minimum Requirements for Taking an Online Exam
Photo ID (A valid Government issued ID that includes a photograph and date of birth in English characters, such as a National ID card, Passport, driving license, military card or social security card.)
A quiet room with sufficient light and a clean desk. No other persons are allowed to be present in the room.
External or integrated Web camera able to rotate 360o
Primary computer or laptop screen resolution 1024x768 or higher, min. 15"
Windows® 10, 8.1, 8 / El Capitan (10.11), Sierra (10.12) , High Sierra (10.13) ,Mojave (10.14) or Catalina (10.15)
Internet connection >= 512/512 kbps (up/down)
Speakers and microphone
Online Proctored Exam Guidelines - Windows