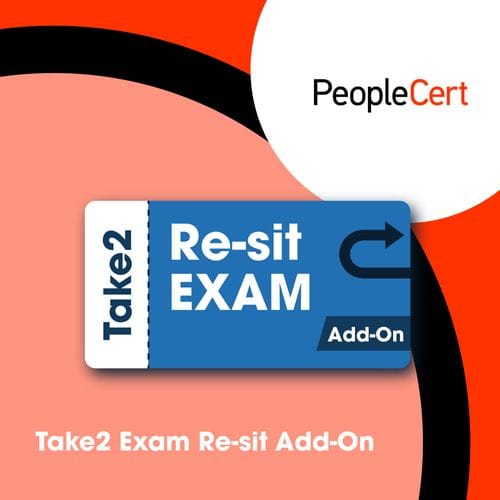 ITIL® 4 Foundation Online Exam with Take2 Resit Option
Buy your ITIL 4 Foundation Exam with a second chance at certification

Taking an exam means you invest in time, energy and money. Wouldn't you like to sit your exam knowing that if the outcome is not what you expected, you could have another shot, at a fraction of the exam price? We propose the Take2 re-sit exam option, that becomes available to you exclusively through Online Proctoring, in the case of an unsuccessful result.
ITIL® 4 Foundation Certification Online Exam Voucher with Take2 option.
Purchasing this voucher allows you to schedule to take your exam online at anytime over the next 12 months.
Take your exam online. Rescheduling an exam up to 48 hours before its start time is free.
The Take2 resit exam option is like insurance against not passing your exam on the first try.
Purchasing the Take2 resit exam option allows you to retake an unsuccessful exam at a fixed, attractive rate, at a fraction of the cost, without having to purchase it again at full price
If you have purchased theTake2 option and an unsuccessful outcome occurs for your initial exam, then the re-sit option it is enabled. When your official exam results become available, you are notified by e-mail to schedule your re-sit exam. It will be conducted through online proctoring offering you flexibility to take it from your home or office, at the time of your convenience. You have up to 6 months to prepare and take your re-sit exam from the date of your initial exam. DISCOVER TAKE2 RE-SIT
The purchase of your exam voucher includes the corresponding Digital Core Guidance (eBook). The Core Guidance eBook acts as a valuable source for candidates in their day-to-day work, long after their exam has finished. It becomes available in the candidate's PeopleCert account, upon exam purchase and the candidate is able to take advantage of several features available like annotation, highlighting, etc.